Plastic Injection Molding
Blackwell Plastics, founded in 1939, is the largest custom plastics injection molder in the south central United States serving South Texas including Houston, San Antonio, Austin and Corpus Christi.
Frequently Asked Questions
Q: What size range of plastic injection molding machinery do we operate?

A: We operate 28 plastic injection molding machines from 22 tons to 620 tons and 60 oz. shot capacity. Many machines are capable of multiple core pulls for complex plastic injection molded parts. The machines are also capable of collecting critical processing data for SPC and SQC.
Q: What markets does our Plastic Injection Molding group serve?
A: Our plastic injection molding group services mid-sized manufacturing companies in the energy, electronics, life science, aerospace, food and beverage, industrial, and construction markets. As a custom plastic injection molder we seek diversity in many markets and focus our skills on part geometry for molding, material, and product application.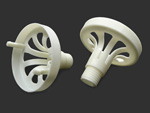 Q: What plastic injection molding materials do we process?
A: Our plastic injection molding group processes most commodity and engineering injection molded resins including PS, PE, PP, ABS, SAN, PC, PVC, PBT, PPS, TPO, TPU, POM, Nylon 66, Nylon 11, and many custom compounded engineering resins.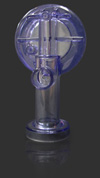 Q: What types of plastic injection molded parts do we produce?
A: Many of our plastic injection molding machines are capable of molding complex parts with multiple core pulls. Blackwell Plastics is proficient with over molding, precision molded inserts, and secondary operations at the machine. For complex parts that need additional secondary operations our Plastic Injection molding department is supported by an extensive secondary department with capabilities for turning, drilling, tapping, machining, welding and assembly.
All customer plastic injection molding tools are maintained and supported by our plastic injection molding tool shop to ensure quality, longevity, and service.
For more information on plastic injection molding, call Project Engineering at (713)643-6577 or ask an engineer