Plastic Tooling
Blackwell Plastics Tool and Die group supports our customers and the plastic injection molding and plastic extrusion group through the manufacturing of custom Plastic Injection Molds and Plastic Extrusion Dies. Our plastics tool and die group provides routine maintenance on customer injection molds to ensure longevity, quality and service. The plastics tool and die group also supports the plastic injection molding and plastic extrusion groups in the building of jigs, gauges and fixtures. The plastics tool and die group operates:
Hurco VM2 CNC machining center with 4th axis
Bridgeport CNC machining center
Multiple Bridgeport mills
Multiple Bridgeport lathes
Vertical boring mill
2 sinker EDM
4 surface grinders
Heat treat oven
Auxiliary support tools

INJECTION MOLD STANDARDS
Blackwell Plastics has the ability to build molds in a variety of ways to suit our customer's needs, ranging from quick and economical prototype molds to superior quality and high volume tools for lasting production needs. When quoting a mold it is essential that everyone involved is "on the same page". For this reason Blackwell Plastics has listed the specifications to our "Standard mold" for production use. In addition to our own specifications we have also provided the industry standard "mold specifications" prepared by the Mold Makers Division of the Society of the Plastics Industry, Inc.
Read More About the Standard Mold Build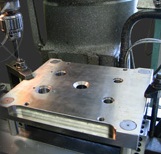 INTRODUCTION TO SPI MOLD SPECIFICATIONS
The following classifications are guidelines to be used in obtaining quotations and placing orders for uniform types of molds. It is our desire through these classifications to help eliminate confusion in the mold quote system and increase customer satisfaction. It is strongly recommended that mold drawings be obtained before construction is started on any injection mold. Even though parts may seem simple enough not to warrant a mold design, a drawing showing sizes and steel types will pay for itself in event of mold damage. It is very important that purchasers deal with vendors whose workmanship standards and reliability are well proven. Mold life, because of variations in part design and mold conditions, cannot be guaranteed. This guide will attempt to give approximate cycles for each type of mold excluding wear caused by material abrasion, poor mold maintenance and improper molding technique. Maintenance is not the responsibility of the moldmaker. Normal maintenance such as replacement of broken springs, broken ejector pins, worn rings, or the rework of nicks and scratches should be borne by the molder. Mold rework costs should be closely considered when deciding which classification of mold is required. This document does not constitute a warranty or guarantee by the Society of the Plastics Industry, Inc., or its members for the classifications or specifications set forth herein.
Read the SPI Mold Specifications
For more information on how Blackwell Plastics can support your plastic injection molds or extrusion dies, call Project Engineering at (713)643-6577 or ask an engineer.