Blackwell Plastics History
The plastics industry is one of the newest and fastest growing segments of our economy. As late as fifty years ago, only a fraction of our population had heard the term plastics. The infant industry offered its pioneers a challenge equal to that of the electronics revolution of the 1970's. Blackwell Plastics was founded by a family that met the challenge and offered a new service never before obtainable south of Chicago – Injection Molding of Thermoplastics.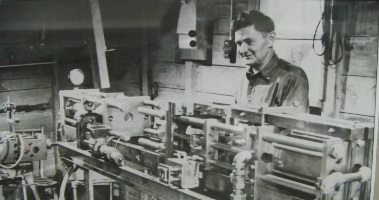 L.A. Blackwell, a master mechanic prior to World War I, suffered a lung injury from a poison gas and was unable to continue his trade. To support his family, Mr. Blackwell became one of the most successful fishermen in the Houston area. Unlike many others, he did not venture into the gulf using nets to make his catch. Instead he fished with a rod and reel. The secret of his success was an invention he named the SLIP CORK INSERT, which enabled him to easily cast a float into deep water and fish near the bottom. Sales of the product were so successful he was unable to meet the demand by producing wooden parts on a South Bend lathe.
In 1938, Mr. Blackwell and his son L.D. sat on their front porch admiring a relatively new gadget – the plastic toothbrush. Mr. Blackwell said, "L.D., this material is what we should be making our slip cork inserts from.
This idea put Mr. Blackwell to work building a small compression mold that could be used to form their fishing product. The molding procedure was to collect a supply of old toothbrushes, cut them into lengths approximate to the slip cork inserts, and heat them in water until they softened. The cut lengths were then placed in the cavities of the steel mold, and pressure was applied by pounding the mold closed with a sledge hammer. As L.D. recalls, the project was a complete disaster.
Not to be defeated, the Blackwell's gathered what available information there was on a process in which plastic granules could be heated, then injected into a mold under high pressure. Mr. Blackwell, having retained his mechanical skills, started building his first injection molding machine. In 1939, with the aid of a cutting torch, small lathe, and drill press, the Blackwell's completed the machine and started successfully molding 300 to 500 "slip cork inserts" each day. The materials used were DuPont's Plastacele and later Eastman's Cellulose Acetate Butyrate.
In 1940, a large Houston oil company requested a scale model of their latest development….a rock bit(a drilling tool that is used to bore through solid rock). The Blackwell's took on the project in which they were to produce four molds that included such advanced features as threaded inserts and collapsible cores. The project was a complete success, and even by today's standards the models they produced would be considered a substantial molding accomplishment. From that point, Blackwell Plastics established themselves as a custom molder.
World War II brought several governmental projects, including such items as molded acrylic gun ports for the workhorse C47 transport planes.
In 1945, L.A. Blackwell died. He had hand built five injection molders. He never saw a factory-made machine!
The business was left to his wife Irene, who had worked in the plant from the beginning, and sons L.D. and Bob. Both sons were in the armed forces at this time.
Bob received a hardship discharge. Six months later the war ended and First Lieutenant L.D. Blackwell rejoined the family business.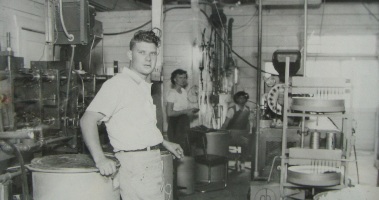 In 1947, the Blackwell's realized the size of their operation could not financially support all three family members. Bob joined a major chemical firm and did not return to Blackwell Plastics full-time until 1957. During these ten years L.D. and his mother expanded the manufacturing plant. As L.D. recalls, these were the difficult years. "One of the biggest problems was having to shut-off the machine I was operating, get cleaned up, put on my suit, and make sales calls." Since that time, under the guidance of L.D., the company has experienced a solid growth rate in size and technical capability.
Today, Blackwell Plastics is recognized as a quality house specializing in Engineering Thermoplastics. It has over 50,000 square feet of manufacturing space dedicated exclusively to 28 molding machines, 5 extruders, tool and die facilities, secondary operations, and a professional staff with years of combined plastics experience. These capabilities enable Blackwell Plastics to offer quality services from concept to design and development, mold construction, production runs, and finishing, all meeting the requirements of a custom molder.
The old hand-built molding machines have been replaced by modern new ones. L.D. is still around-as are the slip cork inserts. And, would you believe, slip cork inserts are the same price as they were in 1939?